Quill and Bark Class 2023-4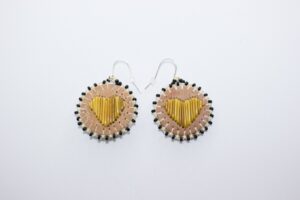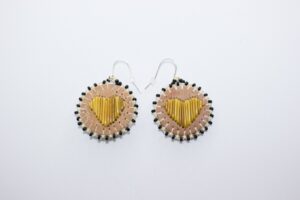 A one-time price of
CAD $81.00
will be added to your order.
BEGINNER AND UP – 9 WEEKS – $81.00 PER PARTICIPANT plus the cost of the item(s) you're making - ADULTS ONLY!
Tuesday, October 10, 2023 - Tuesday, December 12, 2023
Welcome Quillers!
At Creators Gifts we're excited that you're interested in joining us!
Participants new to the art of porcupine quills and birch bark art at Creators Gifts will learn the basic steps in creating this Indigenous art and will be among seasoned learners who are quick to share knowledge and humour. This is a safe space where you can escape from your daily stresses for a couple of hours each week.
Classes are from 6 pm until 9 pm from Tuesday, October 10, 2023 until Tuesday, December 12, 2023 (no class on Hallowe'en) – 9 weeks for the Tuesday Fall Session. Sam's teaching space is in the basement of her home – participants must be able to go up and down stairs and are required to wear durable footwear, something like running shoes.  Participants are encouraged to bring their own drink and snack. 
The base fee is $9 per night (or $81) payable at time of registration.  This secures your seat.
New learners who have not previously quilled with Creators Gifts will create two Christmas (or other) ornaments which will also include caribou hair tufting and beads. If time permits and an additional ornament is made, the cost is $30 for each additional ornament.  Base fee for 9 weeks is $81, plus $60 for 2 ornaments = $141.00 for new quillers.
Learners who are experienced quillers but do not have a project underway at Creators Gifts, can choose what they would like to make, and will be charged accordingly. Base fee + the cost of your item.
Learners who have a project underway at Creators Gifts pay only the base fee. 
On the first night of classes, you will be expected to pay for your item once you have chosen what you want to make: Ornaments $30 (beginners), small Wall Hanging (5 inches) $50, large Wall Hanging (8 inches) $80, small Quill Box (3 inches) $60, med Quill Box (5 inches) $75, large Quill Box (7 inches) $90, Scissor Holder with scissors $55, Earrings $35. Cash or EMT is accepted.
Sandra looks forward to seeing each of you in October.  She invites you to ask questions and explore the artistic skills that are just waiting to emerge from your mind and heart through your hands!